Molten Moods offers music on vinyl, .wav and tape. Run by Jonas Yamer.
The label has two subdivisions: Carl Gari focusses on the output of the eponymous band, while Aether functions as a platform for immersive music.
SUPPORT THE LABEL: Buy all physical releases here on the page and digital ones through BANDCAMP.
--Currently--
Start your week super groovy with a slick blend of electro and broken beats by Amsterdam talent Sophie Blom. Heavy and elevating at the same time. Listen
The Ransom Note premieres the title track of Plebeian`s transcendent "Chess" EP ahead of its release on August 6. Check
This short but strong trip comes from NA5A (pronounced nəpetɑː). She is a rising talent on the Belgrade scene also known as Pony Soprano and a selector that certainly carved out her own musical niche. Enjoy her finely curated journey through forward thinking bass music!
Next up is a gem of a mix by one of the finest selectors on the NYC rave scene. Raised in Nigeria's capital Lagos and relocated to the US in 2010, Akanbi is the man behind the underground party series Groovy Groovy. He caused a stir with his recordings for The Fader or Wax Treatment and his highlighted performances at Sustain Release or Boiler Room. Listen to almost 1,5 hours of Andrew connecting the dots between post-punk, percussion, UK techno and grime in his very own and musical way!
Check the Lot Radio NYC Mix of Jonas Yamer here
Our label night at Drugstore Belgrade was super dope! A big big thank you to the whole Sutra crew and all the dancers. It was definitely one for the books. Check some impressions captured by David Stanley here
All recent orders will be sent out today. Sorry for the delay!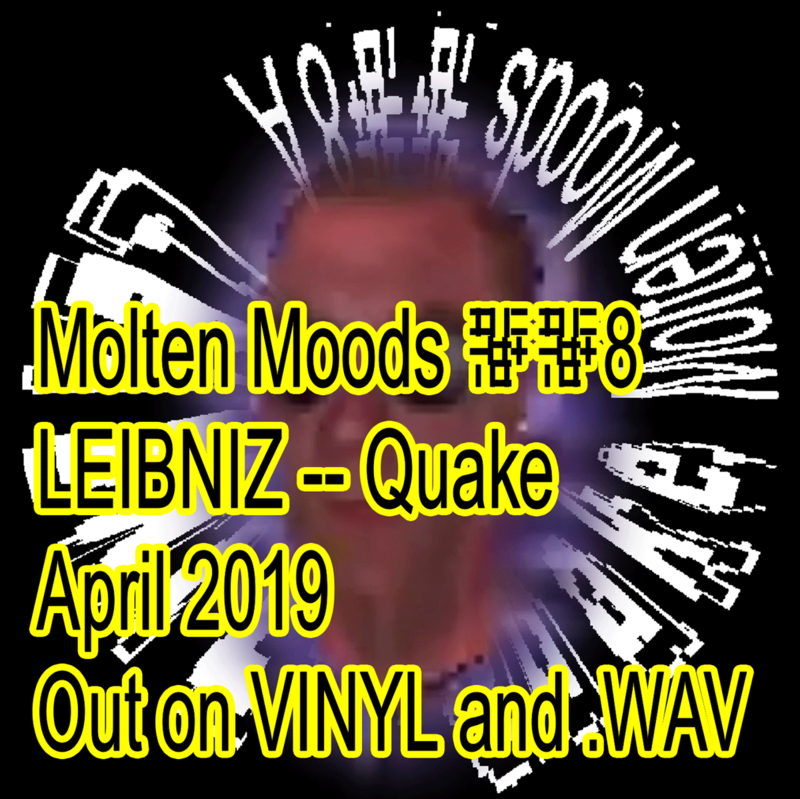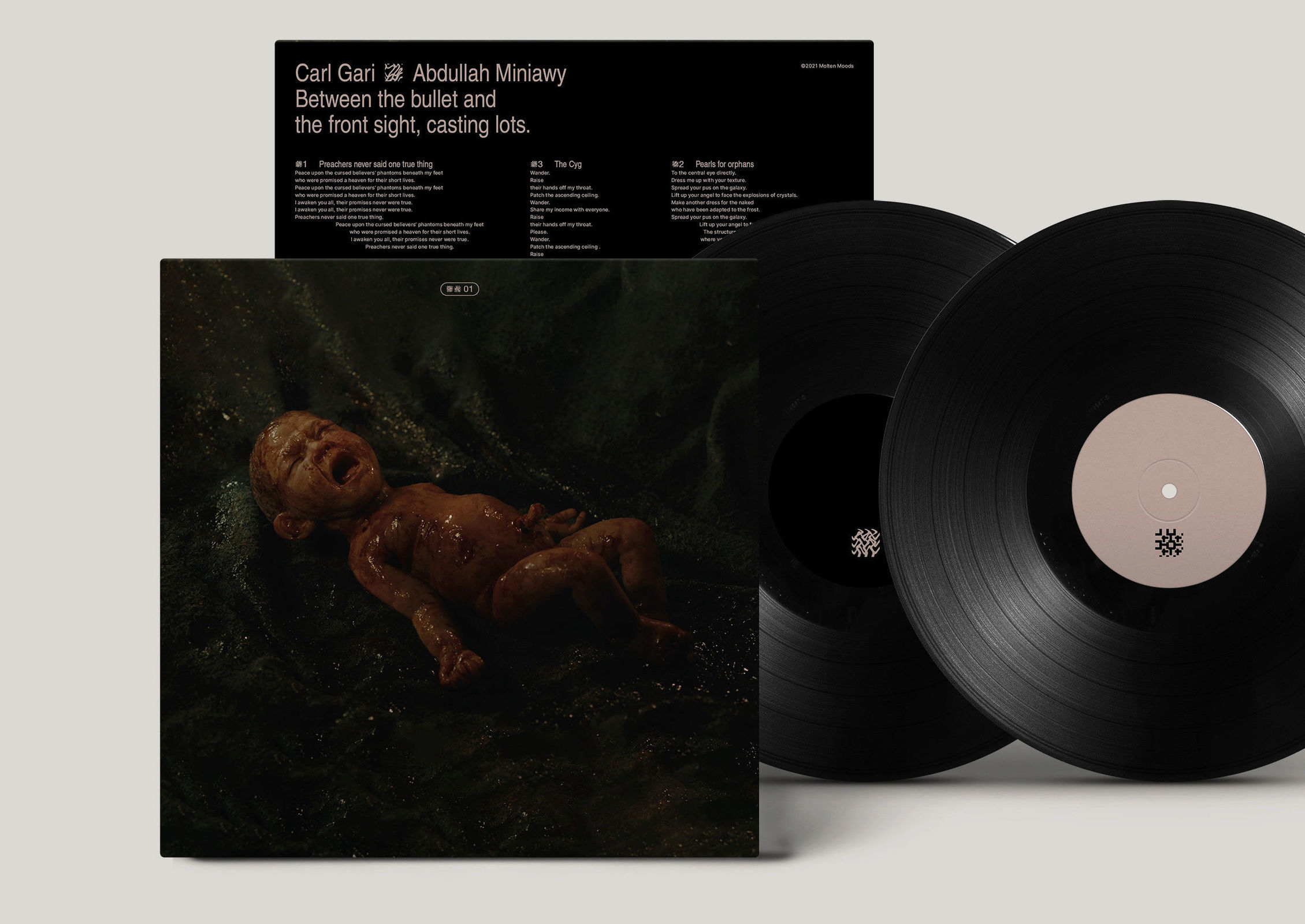 Carl Gari & Abdullah Miniawy - Between the bullet and the front sight, casting lots (Live at Haus der Kunst) 12" Vinyl
Carl Gari & Abdullah Miniawy mint a sub-label of Molten Moods with "Between The Bullet And The Front Sight, Casting Lots (Live At Haus Der Kunst)" after releases for The Trilogy Tapes and Whities (now called AD 93), plus a contribution to a Berlin Atonal compilation.
It's out digitally and on vinyl from February 25th. The sub-label is simply titled Carl Gari. "Between The Bullet And The Front Sight, Casting Lots" was recorded as part of the online edition of Rewire Festival in 2021, when the band performed live at Haus der Kunst in Munich. Later the film was featured by Fact Magazine. The live record contains 8 tracks, 6 of them never released before. All pieces take their names from Miniawy's poems, which are abstract reflections on modern day Egypt and the brutal oppression under the Al-Sisi regime.
Mixed by Johannes Wagner aka J.Manuel. Mastered by Marc Landendinger. Cover artwork taken from "Tlamess," by Ala Eddine Slim. Layout and design by Anja Lekavski.
Kalas Liebfried - Ports in Transition C60 Cassette
"Ports in Transition" is an immersive one hour sound piece created by Kalas Liebfried. It explores the acoustic landscapes of the Mediterranean and makes transmission noises and a field recording of ship horns at the port of Piraeus it's core reference: on Epiphany, the ships make their horns sound at the same time.
Liebfried interprets this soundscape as a metaphoric call of solidarity and turns the material into a sonic score for wind instruments, and an improvisation basis for synths and bass guitar.
After the studio sessions the recordings were completed during a live performance at the garden of Lenbachhaus (Munich): equipped with instruction manuals and walkie-talkies, performers and visitors could send vocal signals to a monumental guitar amplifier sculpture, whilst being part of an interactive choreography.
The sound piece premiered at the Movement 1920-2020 festival (Onassis Stegi, Athens) and was commissioned by the Goethe-Institut Athens and the Onassis Foundation.
The release marks the launch of Aether, a new Molten Moods sublabel focusing on immersive music.
Kalas Liebfried (Conception, Arrangement, Production, Synthesizer) Jonas Yamer (Bass Guitar, Production, Mixing) Lobo (Production, Mixing, Mastering) Ralph Heidel (Arrangement, Alto Saxophone, Bass Clarinet) Bastien Reiser (Trumpet, Horn) Ly Nguyen, Lilian Robl, Jan Struckmeier, Stephan Natzel, Sarah Louisa Henn, Rosanna Marie Pondorf (Vocals) Paul Valentin (Artwork) Anja Lekavski (Artwork & Design)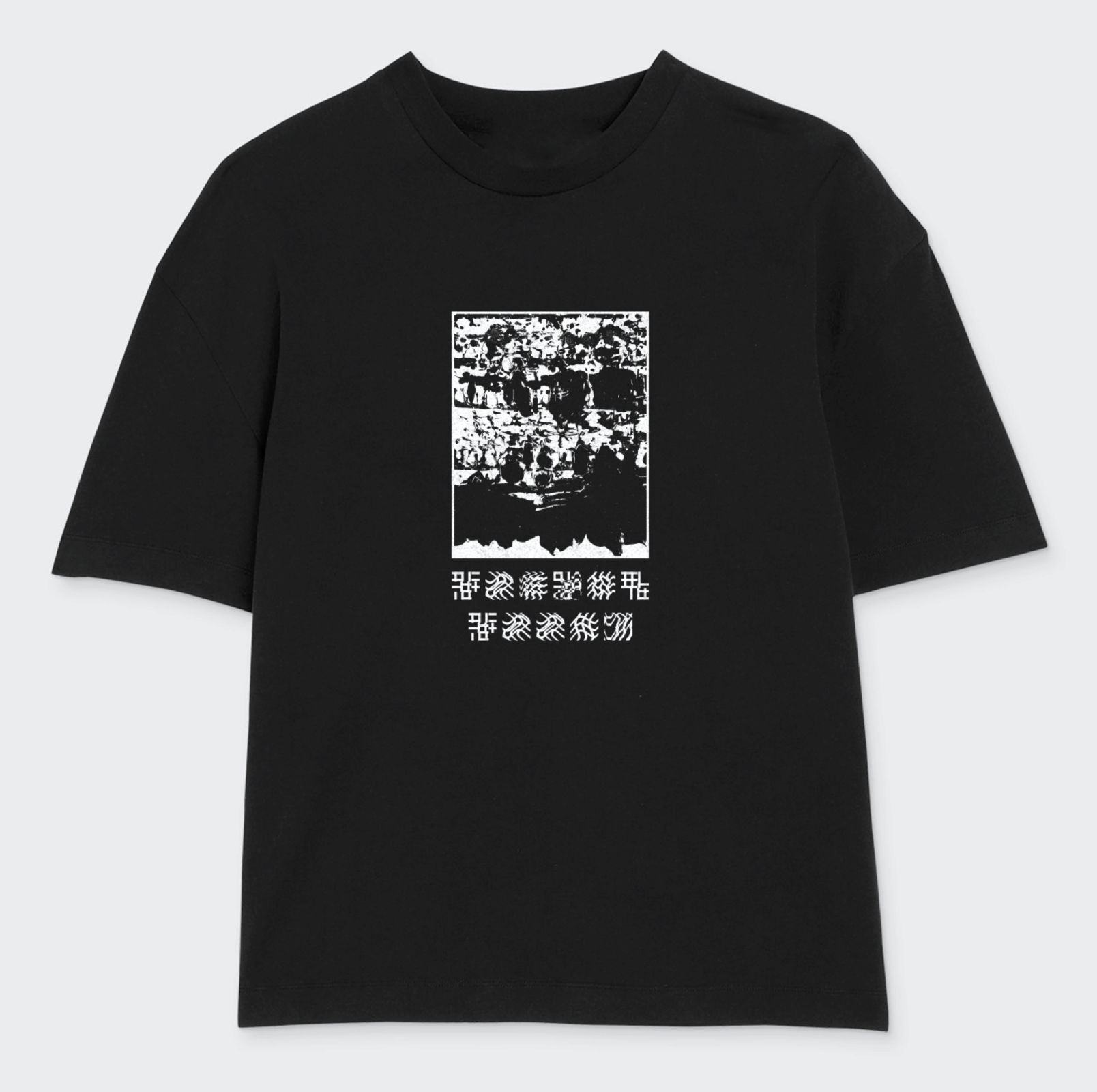 Molten Moods Sapiens T-Shirt
100% high quality organic cotton, slightly oversized.
Designed by Yanni Caloghiris based on a painting by Felix Koestinger.
Includes DL Code for LUCKER - Sapiens.
Let me know about your size! We have M, L, XL.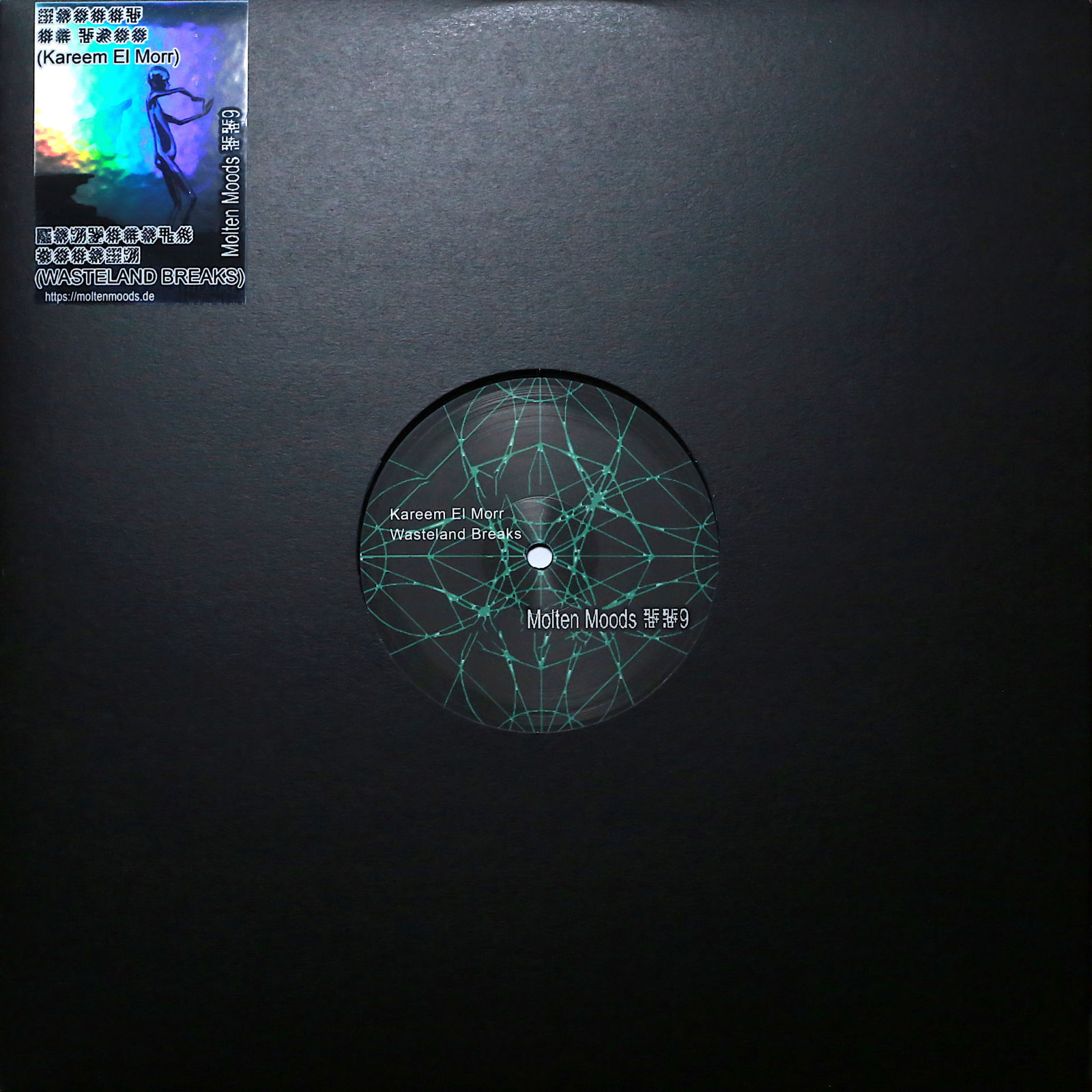 Kareem El Morr - Wasteland Breaks 12" Vinyl
Kareem El Morr debuts on Molten Moods with a floating four tracked 12". The Blitz Club regular, who is known through his releases on Ilian Tape and RFR draws his influence from electro, electronica, trance and IDM. Kareem`s melodic and detailed touch takes the blend to the next level. Catchy, exciting and versatile - "Wasteland Breaks" ticks all the boxes of an elysian first solo platter. The vinyl comes with a fancy hologram sticker. Mastered by Ten Eight Seven Mastering. Artwork by Staana. Layout by Paul Bernhard.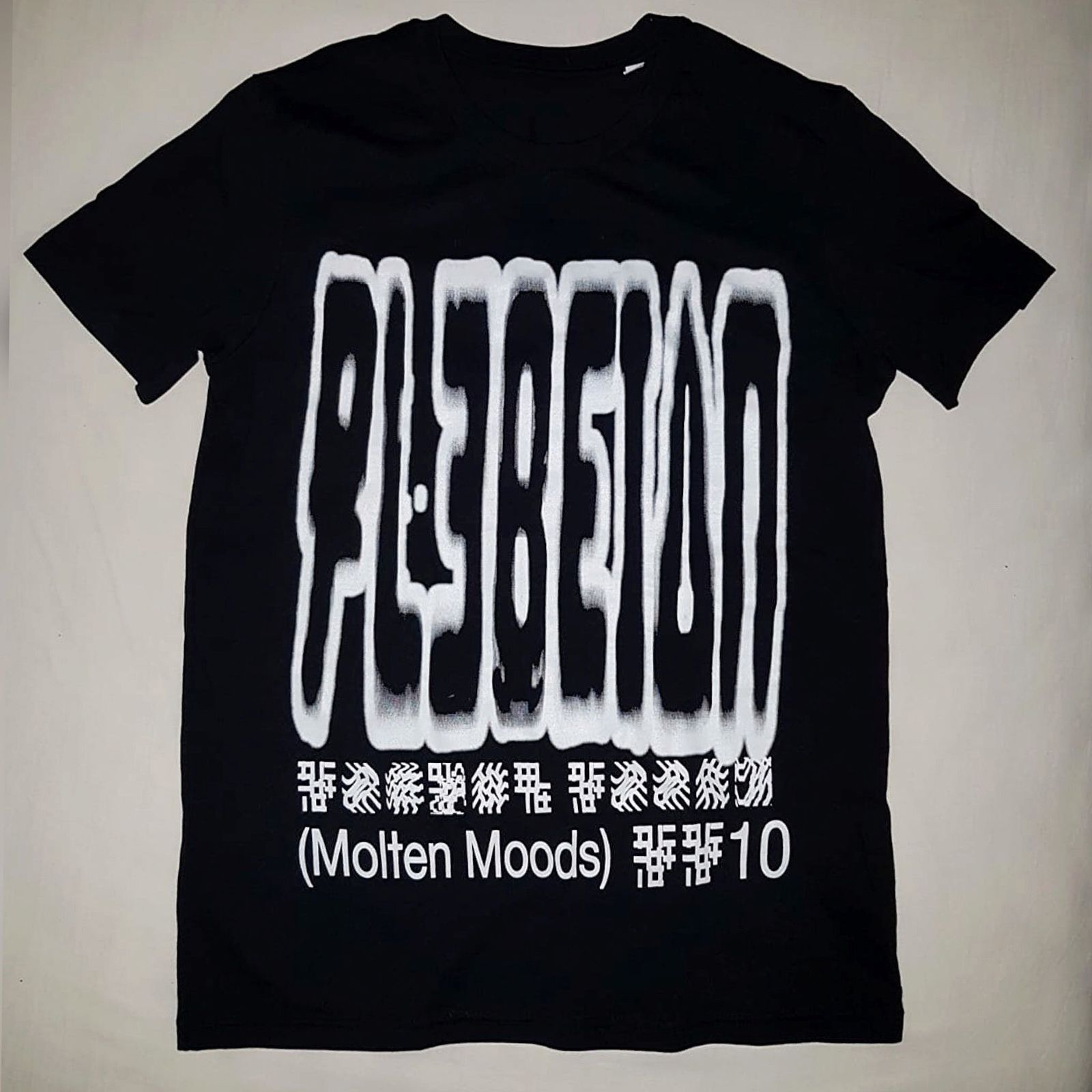 Plebeian - Chess (T-Shirt + Download Code)
100% organic cotton.
Let us know via email which size you want. We have S,M,L. XL is already sold out.
The Plebeian is out to immerse your soul in a 4-round mind chess game. No matter if you win or lose, you definitely gain. The NYC based artist puts you down in the middle of a bubbling and billowing thicket and trains you in listening to his surreal palette of twittering birds and chirping crickets. Ethereal bass. Shaman rave. Whatever you wanna call it - this outstanding body of work truly is a world and experience of its own. Andrew Nerviano co-founded "NYC`s Most Extreme Record Label" Sweat Equity, which is home to artists like Deli Girls, Overland or Ben Ritz. We celebrate his transcendent first Molten Moods release with a fancy T-shirt available via moltenmoods.de and bandcamp. Mastered by Beni Brachtel aka Bartellow. Artwork by Paul Bernhard.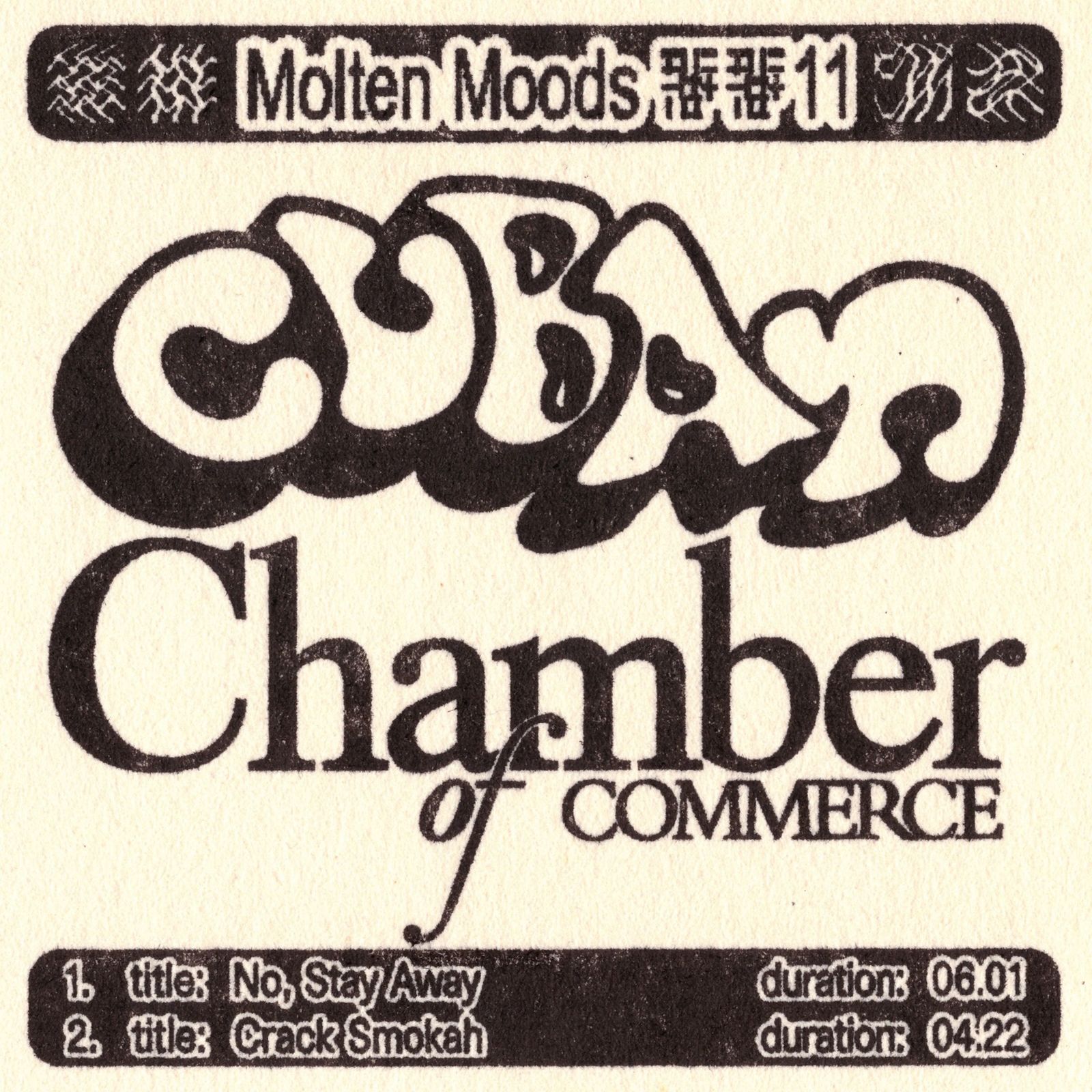 Cuban Chamber of Commerce - No, Stay Away (Download Code)
Cuban Chamber of Commerce is no desparate initiative of Fidel Castros party but the alias of a true-to-the-bone character from the Balkan rave metropolis Belgrade. Born into the chaos and confusion of the Yugoslav war, Žarko concludes that the only good thing for him as a kid was listening to psy-trance even though he was profoundly disappointed by his first psy-trance rave: "I was like, NATO, please bomb me again, music was too god damn loud and place was smell like ass." Fast forward, Žarko aka Žakila as part of the infamous rap crew Bombe Devedesetih (translates Bombs of the Nineties) became a prominent figure of the Serbian underground. After the groups split-up, Žarko shifted more towards techno and UK bass gaining regular appearances at Drugstore or Klub 20/44.
The opener of his Molten Moods two tracker "No, Stay Away" was named as such months before the Covid-19 epidemic. Nevertheless its in-your-face aggression may as well serve to socially distance most fellow human beings from you. Žarko assembles an old school acid line, knockout breakbeat kick and seductive vocal. The result is an industrial techno Frankenstein, a hideous but humanoid beast. "Crack Smokah" oscillates between Burial-esque jungle references and the force of death metal power chords. The artwork is a risograph print by Balenciaga graphic designer Emilie Ferrat. "No, Stay Away" was mixed by J.Manuel, both tracks were mastered by Beni Brachtel aka Bartellow. Nuff said, cop it, feel it.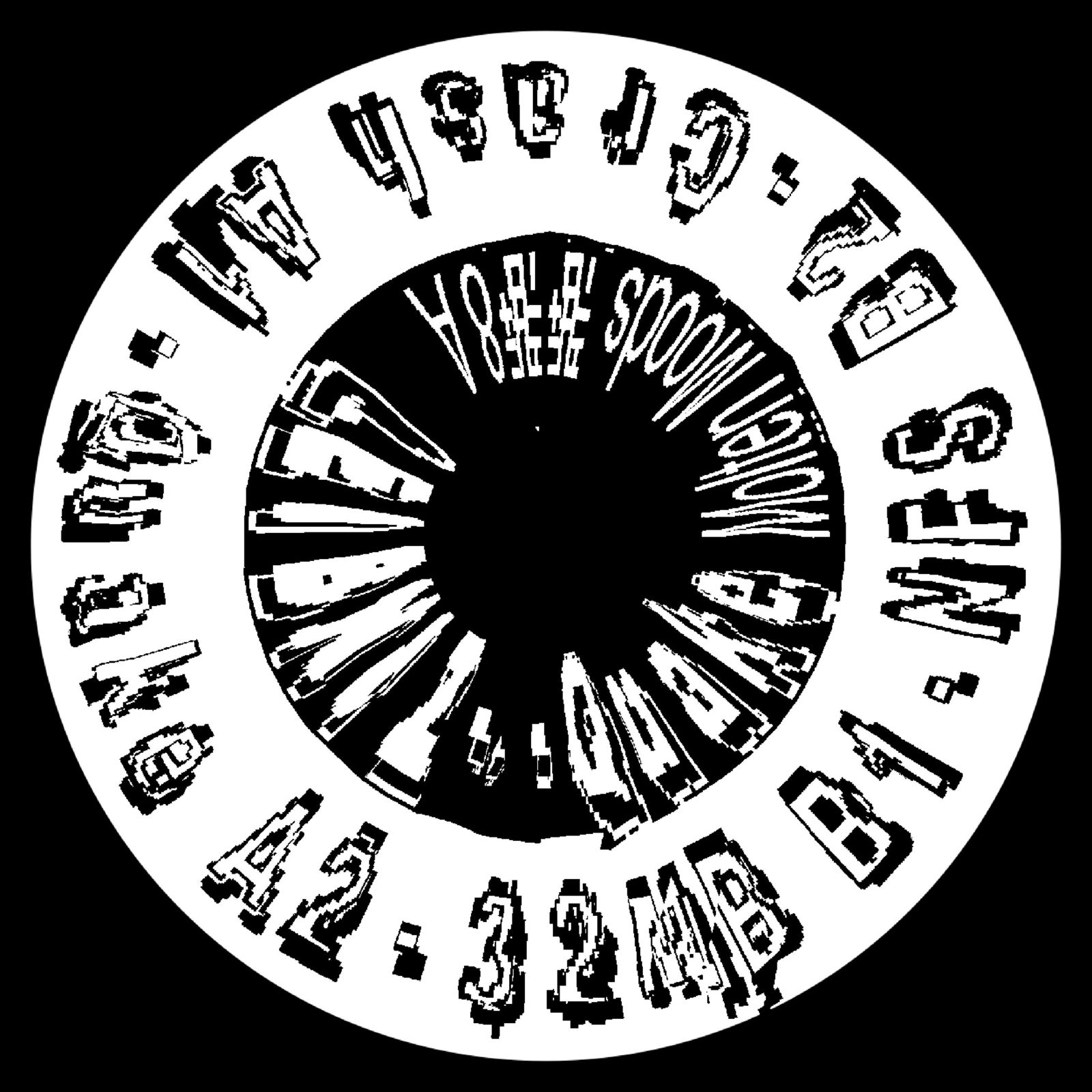 Leibniz - Quake 12" Vinyl
Techno, Midwest Trap, Grime and Breaks synthesised? This may sound like a rather experimental combination. Nevertheless the outcome of Leibniz' latest innovation is a very DJ friendly 4-Tracker called "Quake". The artist is co-founder of the hundert label, half of the projects DJ OK and DJ Bwin and responsible for releases on Shtum, Ratlife, Ortloff and Fourth Wave. "Orbb almost dodged Jay's rocket". Mastered by Beni Brachtel aka Bartellow. Artwork by Paul Bernhard and Arthur Poitevin. Limited to 200 copies.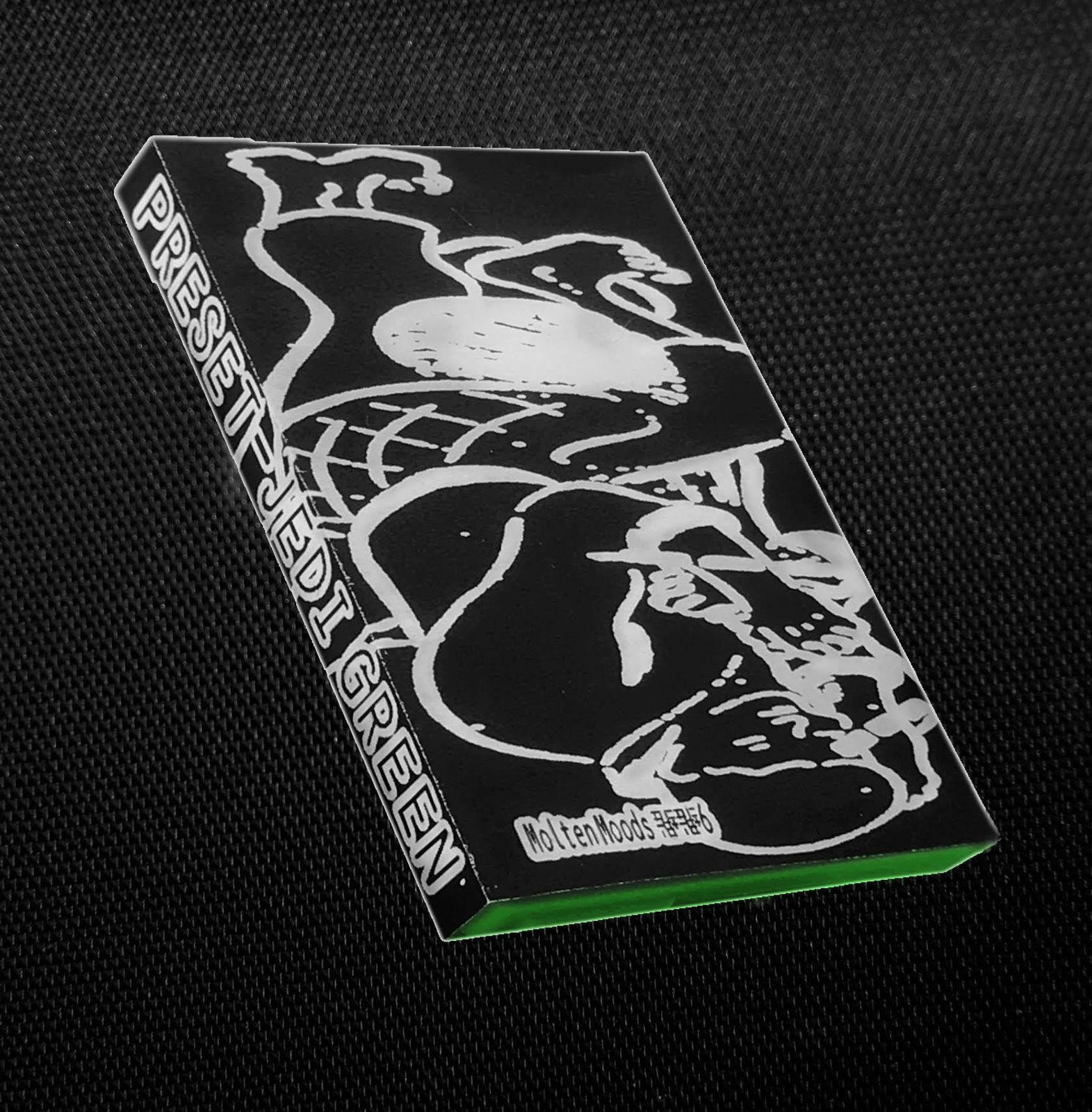 Preset - Jedi Green C43 Cassette + Download Code
What is it about Preset? Well, imagine an abandoned arcade. As you walk in you realise the squeaking, roaring and rattling from all sides. The machines took on a life of their own…The 7 track mini-album "Jedi Green" by the Munich duo is a beautifully modulated release moving from laid back trotting downtempo via a 135er, up to intense stepping 170 bpm tempo pieces. Heavy-weight monolithic drones are complemented by skeletal arpeggios. The mood changes are rich in variety while cast in the same saturated mould. Jedi Green Tape is printed on both sides and comes with a download code. Mastered by Beni Brachtel. Artwork by Paul Bernhard.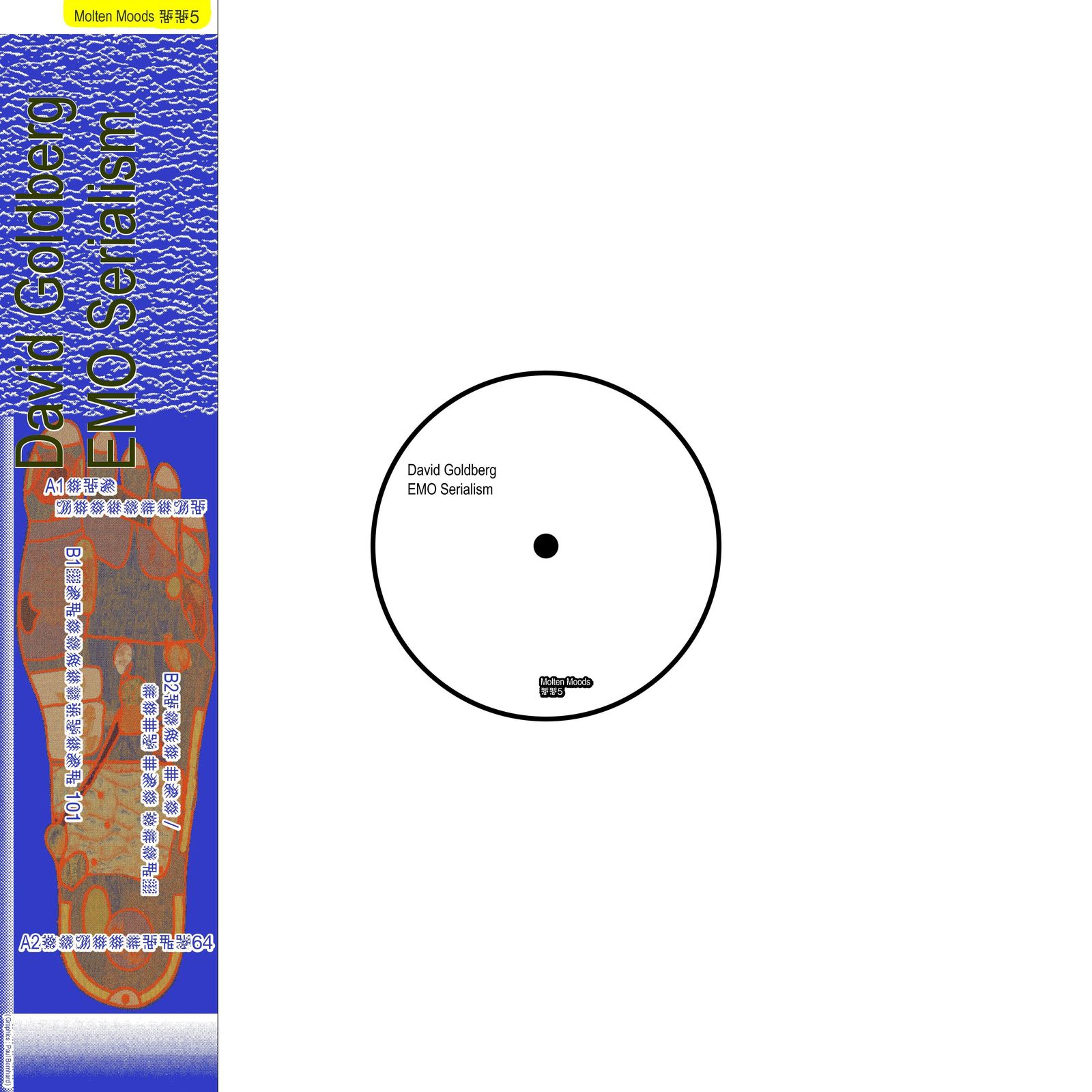 David Goldberg - EMO Serialism 12" Vinyl
Enter the winking ship and go on a journey through the half-human-half-hyper-reality of David Goldberg. EMO Serialism is a sparkling macrocosm of breakbeat wizardry, technoid trance, robo emotion and versicolour ornamentation. The eponymous first track with its safe ground baseline is the cotton wool of the EP, the galaxy's aether and the joyful opening ceremony of this planetary feast. BaseElmnt64 rings out! The stars align and the tournament begins. Lightyears later, hobbling yet graceful Konradichtion 101 is the daring darling of the public, thus emerges victoriously. And the moral of this story is made for / left for blank. [comes with three colour risograph printing]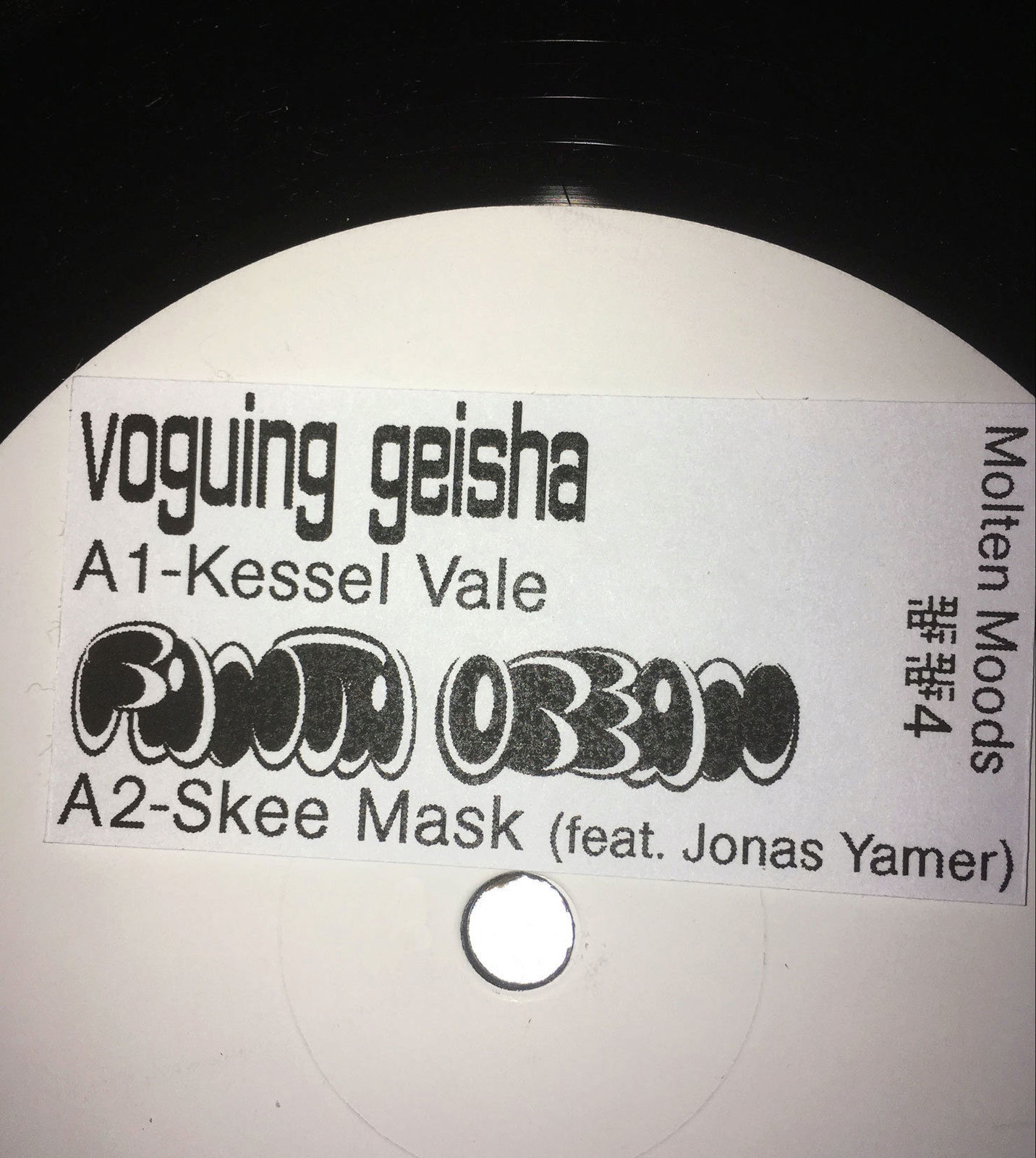 Molten Moods releases another finely curated various artists record with tracks by Skee Mask, Kessel Vale, Jonas Yamer and Konrad Wehrmeister. Kessel Vales opening track "Voguing Geisha" is an unconventional breakbeat masterpiece following his sense of harmony and rhythm already shown through previous releases on Tanstaafl Records and Rhythm Nation. As the track unfolds it reveals musical storytelling by integrating a technoid polyrhythmic loop structure into melodic synth figures, slowly deconstructing in the end. Skee Mask collaborated with Molten Moods labelhead and Carl Gari member Jonas Yamer on "Fanta Ocean", it being the first release outside of his Ilian Tape homebase. The outcome is a moody IDM piece with cinematic qualities, complex but soothing. The B-Side begins with "Xenomorph" by Konrad Wehrmeister, who is known by his releases on Public Possession and SVS Records. This trancy yet distorted and detailed electro banger surely takes on the role of the records dancefloor highlight. The closing track "Insgeheim" is delivered by Molten Moods head honcho Jonas Yamer. Here groovy kicks, distorted chords and a psychedelic pad are woven into one compelling 10 am techno track. The common thread of Molten Moods 4 is four young Munich artists going on a joint trip into idiosyncratic electronic music. The resulting tracks intertwine as one modern and diverse techno record. Mastered by Manmade. In the tradition of Molten Moods' cost-conscious design strategies by Paul Bernhard, the record comes with a xeroxed low budget sticker set. Limited to 300 copies.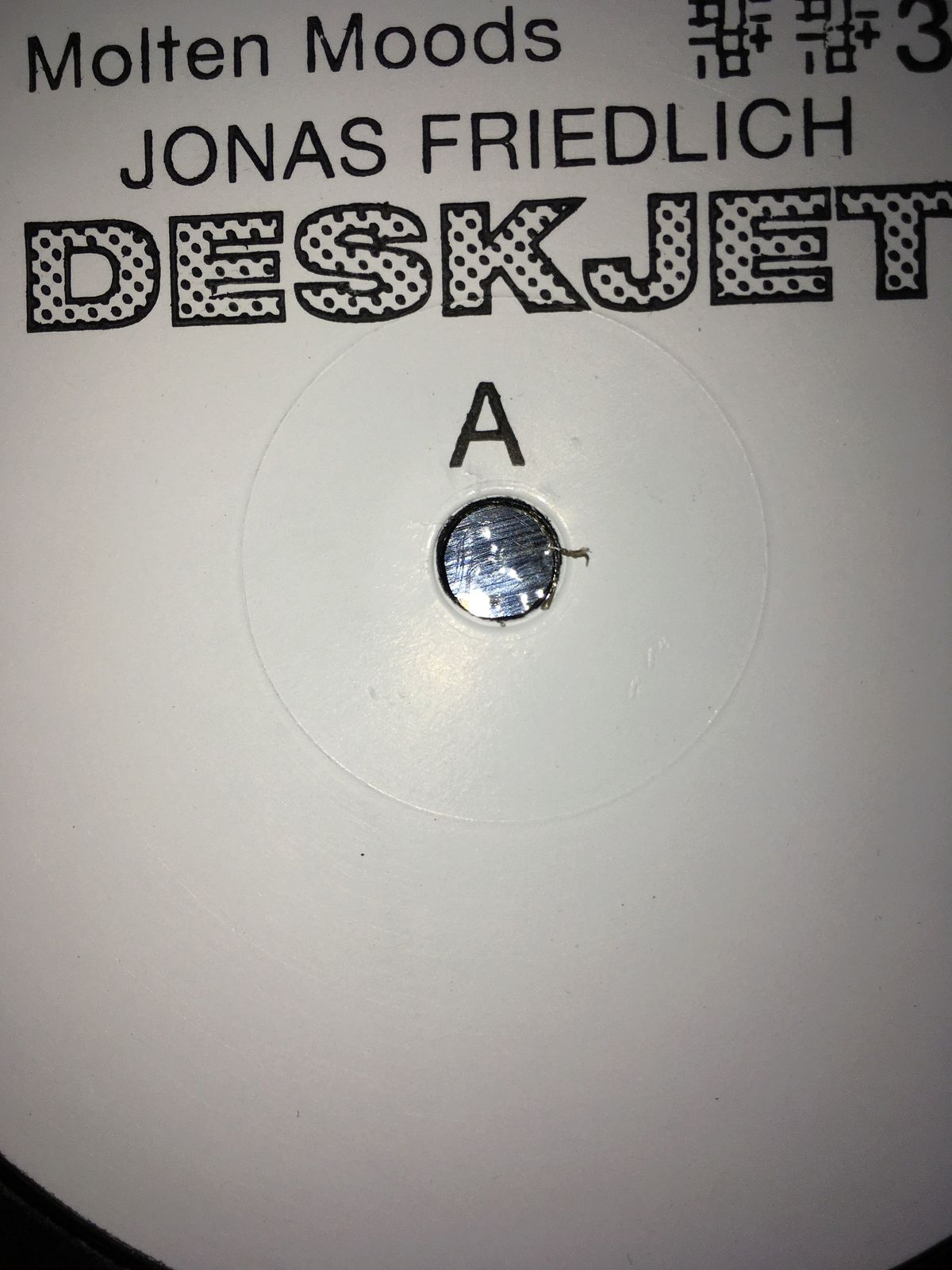 Jonas Friedlich - Deskjet 12" Vinyl
Jonas Friedlich, better known through Mistress Recordings and Carl Gari, releases his first solo 12" on Molten Moods. The versatile 4 track EP starts with the rather straight "Bo s Breakfast" that begins with a polyrhythmic acid bass line leading into a catchy garage-ish chorus, kicking in out of a clear sky but fittingly. "Bus Driver" is a wicked trip, the combination of the long acid build up and a nicely chopped vocal bit is irresistible. A proven, tested (and Molten Moods certified) club banger, regardless of its rather untypical breakbeat. Track number 3 called "Praise Your Name" aces groove through perfectly cut vocal samples and a fancy reference to 90s Hip Hop and Drum n Bass aesthetics. The next and last piece on the record is the eponymous "Deskjet", which is inspired by Friedlichs conceptual sound art installations using printers. Here rather restrained synthie lines are underpinned by a powerful kick and psychedelic tape delay noises. The 12" vinyl is handstamped on both sides and comes with sticker on the sleeve. Mastered and cut by Scape Mastering.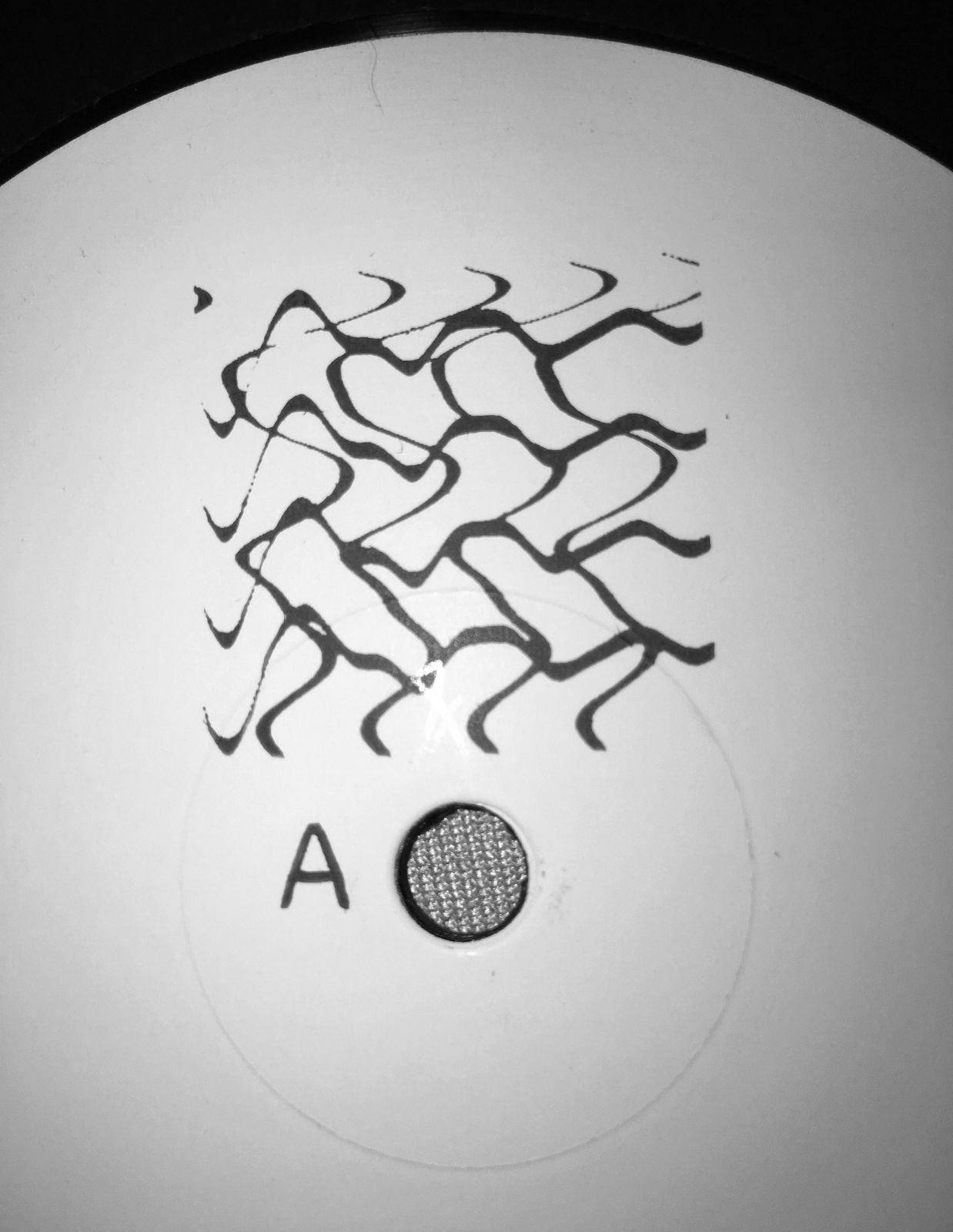 The second Molten Moods release contains works by Natan H, Jonas Friedlich, Jonas Yamer, Einer Weniger and Mono.Mental. Like its predecessor this EP aims at creating coherence through certain types of grooves and atmospheres rather than genre criteria. The tracks are definitely meant to be played in a club environment but also qualify for sweetening your vespertine living room hang out. The 12" vinyl is handstamped on both sides. Mastered and cut by Scape Mastering.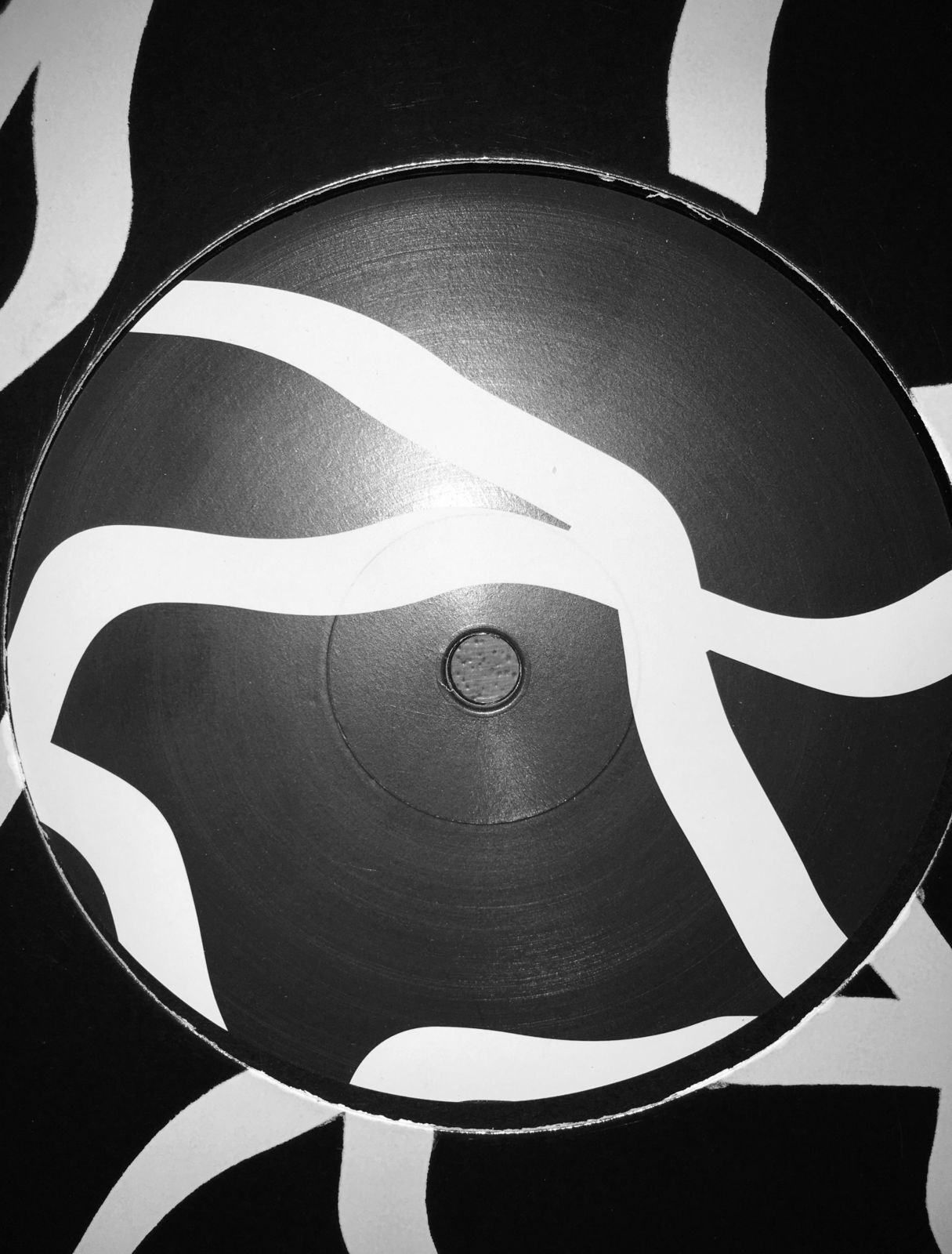 Molten Moods 1 12" Vinyl
Molten Moods first 12" vinyl release contains tracks by Jonas Yamer, Jonas Friedlich, Einer Weniger and an exceptional remix by Franklin De Costa. The sleeve is screenprinted, the vinyl handnumbered.
0 Items in cart, €0.00